Diversity of Bivalves on the Sowan Coast As a Tourism Object in Tuban Regency
Keywords:
Sowan Beach, Bivalvia, Diversity index, Tourist attraction, Community Activities
Abstract
Sowan beach is a beach located north of Java Island in Tuban Regency. Local people take advantage of this beach as a tourist attraction and activities of daily life. Community activity on Sowan beach is currently getting higher so that it affects the quality of the waters and the abundance of biota such as Bivalves (shellfish). Based on this, it is necessary to research to know the diversity of Bivalves on Sowan Beach as a tourist attraction. This type of research is a quantitative descriptive study. The method used in this research is purposive sampling. The research location has 2 stations, namely Karang Beach and White Sand Beach. The results of this study were in the form of data on the types of Bivalves found in the research location as many as 184 consisting of 4 species, namely Perna viridis, Meretrix meretrix, Polymesoda erosa, and Anadara granosa. Based on the results of data analysis, the abundance value of Bivalvia species at station I is 8, and station II is 10.4. The diversity index of Bivalvia species at the station I is 0.61 and station II is 1.28. The dominance index value of Bivalvian species at station 1 is 0.5585 and station II is 0.2687. Based on the abundance value, the diversity index and dominance of Bivalvia in Sowan beach are low. This means that the environmental conditions on the Sowan beach are not good enough to support the breeding of Bivalves.
References
Abdel-Satar, A. M., Ali, M. H., & Goher, M. E. (2017). Indices of Water Quality and Metal Pollution of Nile River, Egypt. Egyptian Journal of Aquatic Research, 43(1), 21–29. https://doi.org/10.1016/j.ejar.2016.12.006

Ambarwati, R., Faizah, U., & Trimulyono, G. (2016). Keanekaragaman dan Distribusi Bivalvia di Pantai Modung, Kabupaten Bangkalan Madura Diversity and Distribution of Bivalves at Modung Beach, Bangkalan Madura Regency. Sains & Matematika, 5(1), 23–28.

Aru, V., Khakimov, B., Sørensen, K. M., & Engelsen, S. B. (2018). The Foodome of Bivalve Molluscs: From Hedonic Eating to Healthy Diet. Journal of Food Composition and Analysis, 69(February), 13–19. https://doi.org/10.1016/j.jfca.2018.01.018

Baderan, D. W. K., Hamidun, M. S., & Farid, S. M. (n.d.). The Abundance, Diversity, and The Density of Mollusks in Tutuwoto Mangrove Area of Anggrek District, North Gorontalo Regency, Gorontalo, Indonesia.

Barnett, M. J., Jackson-Smith, D., & Haeffner, M. (2018). Influence of Recreational Activity on Water Quality Perceptions and Concerns in Utah: A Replicated Analysis. Journal of Outdoor Recreation and Tourism, 22(December 2017), 26–36. https://doi.org/10.1016/j.jort.2017.12.003

Bay, K. (2013). Studi Laju Pertumbuhan dan Tingkat Eksploitasi Kerang Kalandue (Polymesoda erosa) pada Daerah Hutan Mangrove di Teluk Kendar. Jurnal Mina Laut Indonesia Vol, 2(06), 14–25.

Belal, A. A. M. (2019). Macro-Benthic Invertebrates as A Bio-Indicator for Water and Sediment Quality in Suez Bay, Red Sea. Egyptian Journal of Aquatic Research, 45(2), 123–130. https://doi.org/10.1016/j.ejar.2019.03.003

Bódis, E., Tóth, B., Szekeres, J., Borza, P., & Sousa, R. (2014). Empty native and invasive bivalve shells as benthic habitat modifiers in a large river. Limnologica, 49, 1–9. https://doi.org/10.1016/j.limno.2014.07.002

Boominathan, M., Ravikumar, G., Chandran, S., & Ramachandra, T. V. (2014). Impact of Hydroelectric Projects on Bivalve Clams in the Sharavathi Estuary of Indian West Coast. The Open Ecology Journal, 7, 52–58. https://benthamopen.com/contents/pdf/TOECOLJ/TOECOLJ-7-1-52.pdf

Brown, A. R., Webber, J., Zonneveld, S., Carless, D., Jackson, B., Artioli, Y., Miller, P. I., Holmyard, J., Baker-Austin, C., Kershaw, S., Bateman, I. J., & Tyler, C. R. (2020). Stakeholder perspectives on the importance of water quality and other constraints for sustainable mariculture. Environmental Science and Policy, 114(August), 506–518. https://doi.org/10.1016/j.envsci.2020.09.018

Budi, D. A., Suryono, C. A., & Ario, R. (2013). Studi Kelimpahan Gastropoda di Bagian Timur Perairan Semarang Periode Maret–April 2012. Journal of Marine Research, 2(4), 56–65.

Canesi, L., & Pruzzo, C. (2016). Specificity of Innate Immunity in Bivalves: A Lesson From Bacteria. In Lessons in Immunity: From Single-cell Organisms to Mammals. Elsevier Inc. https://doi.org/10.1016/B978-0-12-803252-7.00006-0

Cappenberg, H. A. W. (2008). Beberapa Aspek Biologi Kerang Hijau Perna viridis Linnaeus 1758. Oseana, XXXIII(1), 33–40.

Custodio, M., Chanamé, F., Pizarro, S., & Cruz, D. (2018). Quality of The Aquatic Environment and Diversity of Benthic Macroinvertebrates of High Andean Wetlands of The Junín Region, Peru. Egyptian Journal of Aquatic Research, 44(3), 195–202. https://doi.org/10.1016/j.ejar.2018.08.004

Daly, A. J., Baetens, J. M., & De Baets, B. (2018). Ecological Diversity: Measuring the Unmeasurable. Mathematics, 6(7). https://doi.org/10.3390/math6070119

Fitrianti. (2014). Keanekaragaman dan Distribusi Bivalvia di Estuari Mangrove Belawan Sumatera Utara (Tesis). FMIPA Universitas Sumatera Utara.

Gifari A. (2011). Karakteristik Asam Lemak Daging Keong Macan Babylonia spirata, Kerang Tahu M. meretrix, dan Kerang Salju Pholas dactylus. Institut Pertanian Bogor.

Hamuna, B., Tanjung, R. H. R., Suwito, S., Maury, H. K., & Alianto, A. (2018). Kajian Kualitas Air Laut dan Indeks Pencemaran Berdasarkan Parameter Fisika-Kimia di Perairan Distrik Depapre, Jayapura. Jurnal Ilmu Lingkungan, 16(1), 35. https://doi.org/10.14710/jil.16.1.35-43

Hendra, Efriyeldi, E., & Galib, M. (2020). Abundance and Distribution of Blood Clams (Anadara granosa) in Coastal Waters of Mekarbaru Village Kepulauan Meranti. Asian Journal of Aquatic Sciences, 3(1), 11–19. https://doi.org/10.31258/ajoas.3.1.11-19

Indraswari, A., Litaay, M., & Soekendarsi, E. (2014). Morfometri Kerang Tahu Meretrix Meretrix Linnaeus, 1758 Di Pasar Rakyat Makassar. Berita Biologi, 13(2), 137–142. https://doi.org/10.14203/beritabiologi.v13i2.687

Islami, Muhammad, M. (2013). Pengaruh Suhu Salinitas Terhadap Bivalvia. Oseana, XXXVIII(2), 1–10.

J.M.Vakily. (1989). The Biology and Culture of Mussels of The Genus Perna. In ICLARM Studies and Reviews (Vol. 17).

Kadarsah, A., & Susilawati, I. O. (2019). Karakter morfometri kerang kepah (Polymesoda erosa) dari dua jenis vegetasi mangrove (Avicennia marina dan Rhizopora apiculata). Prosiding Seminar Nasional Lingkungan Lahan Basah P-ISSN 2623-1611 e-ISSN 2623-1980, 4(April), 168–173. http://snllb.ulm.ac.id/prosiding/index.php/snllb-lit/article/view/179

Karnisa, Y., Desrina, D., & Widowati, I. (2019). Parasites Identification and Histopathology Changes on Blood Cookle (Anadara granosa Linnaeus, 1758). ILMU KELAUTAN: Indonesian Journal of Marine Sciences, 24(4), 171. https://doi.org/10.14710/ik.ijms.24.4.171-178

Karthikeyan, P., Marigoudar, S. R., Mohan, D., Sharma, K. V., & Ramana Murthy, M. V. (2021). Prescribing Sea Water Quality Criteria for Arsenic, Cadmium and Lead Through Species Sensitivity Distribution. Ecotoxicology and Environmental Safety, 208(August 2020), 111612. https://doi.org/10.1016/j.ecoenv.2020.111612

Kasmaruddin. (2017). Kelimpahan Makrozoobenthos Pada Tambak Tradisional Ikan Bandeng (Chanos chanos) Di Desa Sungai Undan Kecamatan Reteh Kab. Indragiri Hilir. Bapeda, 3(3), 172–177.

Katili, V. R. A., Koroy, K., & Lukman, M. (2020). Water Quality Based on Chemical Physics Parameters in Daruba Morotai Island Regency. Agrikan: Jurnal Agribisnis Perikanan, 13(2), 413. https://doi.org/10.29239/j.agrikan.13.2.413-418

Khalil, M. (2016). Bioekologi Kerang Genus Anadara (Bivalvia: Archidae) (pp. 1–62).

Kisman, M. D., Ramadhan, A., & Djirimu, M. (2016). Jenis-jenis dan Keanekaragaman Bivalvia di Perairan Laut Pulau Maputi Kecamatan Sojol Kabupaten Donggala dan Pemanfaatannya Sebagai Media Pembelajaran Biologi. E-Jipbiol, 4(1), 1–14.

Kolarova, N., & Napiórkowski, P. (2021). Trace Elements in Aquatic Environment. Origin, Distribution, Assessment and Toxicity Effect for The Aquatic Biota. Ecohydrology & Hydrobiology.

Komala, R., & Zahara, F. (2021). Population Growth Model of Anadara granosa Based on Correlation Between Dimension of Shell with the Weight at the Water Environment of Sunda Strait. IOP Conference Series: Materials Science and Engineering, 1098(5), 052055. https://doi.org/10.1088/1757-899x/1098/5/052055

Krebs, C. . (1989). Experimental Analysis of Distribution and Abundanc. Third. Edition.

Lawrence, A., O'Connor, K., Haroutounian, V., & Swei, A. (2018). Patterns of Diversity Along a Habitat Size Gradient in a Biodiversity Hotspot. Ecosphere, 9(4). https://doi.org/10.1002/ecs2.2183

López-Rocha, J. A., Fernández-Rivera Melo, F. J., Gastélum-Nava, E., & Larios-Castro, E. (2020). Abundance and harvest strategy of three species of clam (Bivalvia: Veneridae) located in new fishing banks in the Gulf of California. Aquaculture and Fisheries, June. https://doi.org/10.1016/j.aaf.2020.07.015

Malik, A. (2013). Analisis Kualitas Air Pada Kerapatan Mangrove Yang Berbeda Di Kabupaten Barru. Jurnal Ilmu Perikanan, 2(2), 159–163.

Mariné Oliveira, G. F., do Couto, M. C. M., de Freitas Lima, M., & do Bomfim, T. C. B. (2016). Mussels (Perna Perna) as Bioindicator of Environmental Contamination by Cryptosporidium Species with Zoonotic Potential. International Journal for Parasitology: Parasites and Wildlife, 5(1), 28–33. https://doi.org/10.1016/j.ijppaw.2016.01.004

Matthews, T. J., & Whittaker, R. J. (2015). On the Species Abundance Distribution in Applied Ecology and Biodiversity Management. Journal of Applied Ecology, 52(2), 443–454. https://doi.org/10.1111/1365-2664.12380

McLeod, I. M., zu Ermgassen, P. S. E., Gillies, C. L., Hancock, B., Humphries, A., Westby, S. R., Quan, W., Allison, S., & Debney, A. (2019). Can Bivalve Habitat Restoration Improve Degraded Estuaries? In Coasts and Estuaries: The Future. Elsevier Inc. https://doi.org/10.1016/B978-0-12-814003-1.00025-3

Mitha, W., Samsul, F., Nana, L. S., Mallongi, A., & Thaha, R. M. (2019). Assessment of Cadmium ( Cd ) and Copper ( Cu ) Hazard Metal in Anadara Shell from Kendari Bay South Sulawesi in 2019. 4(September), 74–80.

Muralikrishna, I. V., & Manickam, V. (2017). Natural Resource Management and Biodiversity Conservation. Environmental Management, 23–35. https://doi.org/10.1016/b978-0-12-811989-1.00003-8

Odum, E. P. (1996). Dasar-Dasar Ekologi. Terjemahan dari Fundamental of Ecology oleh T. Samingan. 1994. Gadjah Mada University Press.

Patty, S. I., & Rifai, H. (2013). Jurnal Ilmiah Platax Struktur Komunitas Padang Lamun Di Perairan Pulau Mantehage, Sulawesi Utara 1 Community Structure of Seagrass Meadows In Mantehage Island Waters , North Sulawesi Jurnal Ilmiah Platax. 1(September), 177–186.

Pawar, P. R., Rahman, A., & Al, M. (2017). Species Diversity and Distribution of Marine Bivalves from Coastal Transitional Ecosystem of Uran , Navi Mumbai , India. Advances in Environmental Biology, 11(4), 1–11.

Perrett, M., Sivarajah, B., Cheney, C. L., Korosi, J. B., Kimpe, L., Blais, J. M., & Smol, J. P. (2021). Impacts on Aquatic Biota from Salinization and Metalloid Contamination by Gold Mine Tailings in Sub-Arctic Lakes. Environmental Pollution, 278, 116815.

Pratiwi, A., Fachrul, M. F., & Hendrawan, D. I. (2020). The Macrozoobenthos as Bioindicator Water Quality of Kali Baru Barat River. International Journal of Scientific and Technology Research, 9(1), 3511–3515.

Quinn, B. (2014). Preparation and Maintenance of Live Tissues and Primary Cultures for Toxicity Studies. In Biochemical Ecotoxicology: Principles and Methods. Elsevier Inc. https://doi.org/10.1016/B978-0-12-411604-7.00003-9

Rahim, N. F., Yaqin, K., & Rukminasari, N. (2020). Effect of Microplastic on Green Mussel Perna Viridis: Experimental Approach. Jurnal Ilmu Kelautan SPERMONDE, 5(2), 89. https://doi.org/10.20956/jiks.v5i2.8937

Ramadhaniaty, M., Syawali, Karina, S., & Muhammadar. (2021). Biodiversity of Bivalves in the Mangrove Ecosystem in Kampung Jawa, Banda Aceh. IOP Conference Series: Earth and Environmental Science, 674(1). https://doi.org/10.1088/1755-1315/674/1/012058

Reyna, P. B., Ballesteros, M. L., Albá, M. L., Bertrand, L., González, M., Miglioranza, K. S. B., Tatián, M., & Hued, A. C. (2019). A Multilevel Response Approach Reveals The Asian Clam Corbicula Largillierti as A Mirror of Aquatic Pollution. Science of the Total Environment, 692, 175–187. https://doi.org/10.1016/j.scitotenv.2019.07.194

Rizal, S. (2016). The Cultivation of Mud Clam Polymesoda erosa ( Solander , 1786 ) in Mangroves Ponds and without Mangroves. May.

Rybicki, J., Abrego, N., & Ovaskainen, O. (2020). Habitat Fragmentation and Species Diversity in Competitive Communities. Ecology Letters, 23(3), 506–517. https://doi.org/10.1111/ele.13450

Saad Abdelkarim, M. (2020). Biomonitoring and Bioassessment of Running Water Quality in Developing Countries: A Case Study From Egypt. Egyptian Journal of Aquatic Research, 46(4), 313–324. https://doi.org/10.1016/j.ejar.2020.11.003

Saifullah, A. S. M., Abu Hena, M. K., Idris, M. H., Rajaee, A., & Johan, I. (2014). Seasonal Variation of Water Characteristics in Kuala Sibuti River Estuary in Miri, Sarawak, Malaysia. Malaysian Journal of Science, 33(1), 9–22. https://doi.org/10.22452/mjs.vol33no1.3

Samir, Nurgayah, W., & Ketjulan, R. (2016). Studi Kepadatan dan Pola Distribusi Bivalvia di Kawasan Mangrove Desa Balimu Kecamatan Lasalimu Selatan Kabupaten Buton. Jurnal Manajemen Sumber Daya Perairan, 1(2), 169–181.

Samsi, A. N., Bin, S., Omar, A., & Niartiningsih, A. (2018). The Influence of Environmental Factors To Molluscs Distribution Patterns in Natural and Rehabilitated Mangrove Ecosystem. 8, 51–60.

Sasmita Anggun. (2014). Kondisi Mangrove Dan Struktur Komunitas Udang (Studi Kasus Di Kecamatan Pasekan, Indramayu). Fakultas Perikanan Dan Ilmu Kelautan Institut Pertanian Bogor.

Semeidi Husrin, N. S. (2019). Status Baku Mutu Air Laut untuk Kehidupan Biota dan Indeks Pencemaran Perairan di Pesisir Cirebon pada Musim Kemarau <br><i>[Water Quality Standards for Marine Life and Pollution Index in Cirebon Coastal Area in the Dry Season]<i>. Jurnal Ilmiah Perikanan Dan Kelautan, 6(2), 149. https://doi.org/10.20473/jipk.v6i2.11300

Septiana, N. I. (2018). Keanekaragaman Moluska (Bivalvia dan Gastropoda) di Pantai Pasir Putih Kabupaten Lampung Selatan. UIN Raden Intan Lampung.
Silva-Cavalcanti, J. S., Holzkämper, E. M., Alves, L. H. B., & da Costa, M. F. (2017). Short-term patterns of shellfish exploitation by traditional estuarine fisheries. Global Ecology and Conservation, 12, 36–45. https://doi.org/10.1016/j.gecco.2017.08.003

Smaal, A. C., Ferreira, J. G., Grant, J., Petersen, J. K., & Strand, Ø. (2018). Goods and Services of Marine Bivalves. Goods and Services of Marine Bivalves, January, 1–591. https://doi.org/10.1007/978-3-319-96776-9

Susetya, I. E., Desrita, Ginting, E. D. D., Fauzan, M., Yusni, E., & Saridu, S. A. (2018). Diversity of Bivalves in Tanjung Balai Asahan Waters, North Sumatra, Indonesia. Biodiversitas, 19(3), 1147–1153. https://doi.org/10.13057/biodiv/d190350

Sutriyah. (2015). Inventarisasi Jenis-Jenis Bivalvia di Zona Intertical Perairan Teluk Tomini Kecamatan Batudaa Pantai Kabupaten Gorontalo Povinsi Gorontalo. Universitas Negeri Gorontalo.

Thorp, J. H., & Rogers, D. C. (2015). Thorp and Covich's Freshwater Invertebrates. Elsevier.

Ulfah, M., Fajri, S. N., Nasir, M., Hamsah, K., & Purnawan, S. (2019). Diversity, Evenness and Dominance Index Reef Fish in Krueng Raya Water, Aceh Besar. IOP Conference Series: Earth and Environmental Science, 348(1). https://doi.org/10.1088/1755-1315/348/1/012074

Yap, C. K., & Al-Barwani, S. M. (2012). A Comparative Study of Condition Indices and Heavy Metals in Perna viridis Populations at Sebatu and Muar, Peninsular Malaysia. Sains Malaysiana, 41(9), 1063–1069.

Yeom, D. J., & Kim, J. H. (2011). Comparative Evaluation of Species Diversity Indices in The Natural Deciduous Forest of Mt. Jeombong. Forest Science and Technology, 7(2), 68–74. https://doi.org/10.1080/21580103.2011.573940

Yona, D., Sari, S. H. J., Iranawati, F., Fathur Rayyan, M., & Rini, N. M. (2020). Heavy Metals Accumulation and Risk Assessment of Anadara granosa from Eastern Water of Java Sea, Indonesia. IOP Conference Series: Earth and Environmental Science, 416(1). https://doi.org/10.1088/1755-1315/416/1/012007

Yulinda, E., Saad, M., & Yusuf, M. (2020). A Study on The Economic Potential of Blood Cockles (Anadara granosa) in Rokan Hilir, Riau Province, Indonesia. AACL Bioflux, 13(3), 1504–1510.

Zhang, A., Wang, L., Yang, X., Hu, X., Fu, Y., Li, C., Chen, A., & Yuan, X. (2018). Relationship between Shell Morphological Traits and Body Weight in Two Estuarine Clams, Meretrix meretrix and Cyclina sinensis in Shuangtaizi Estuary, Bohai Sea in China. Journal of Shellfish Research, 37(5), 989–996. https://doi.org/10.2983/035.037.0509

Zhang, S., Wang, H., & Xu, F. (2012). Taxonomic Study on Meretrix (Bivalvia, Veneridae) from China Seas. Acta Zootaxonomica Sinica/Dongwu Fenlei Xuebao, 37(3), 473–479.

Zia Ulmaula, Syahrul Purnawan, M. A. S. (2016). Keanekaragaman Gastropoda dan Bivalvia Bedasarkan Karateristik Sedimen daerah intertidal Kawasan Pantai Ujong Pancu Kecamatan Peukan Bada Kabupaten Aceh Besar. Jurnal Ilmiah Mahasiswa Kelautan Dan Perikanan Unsyiah, 1(April), 124–134. https://doi.org/10.4135/9781849209403.n73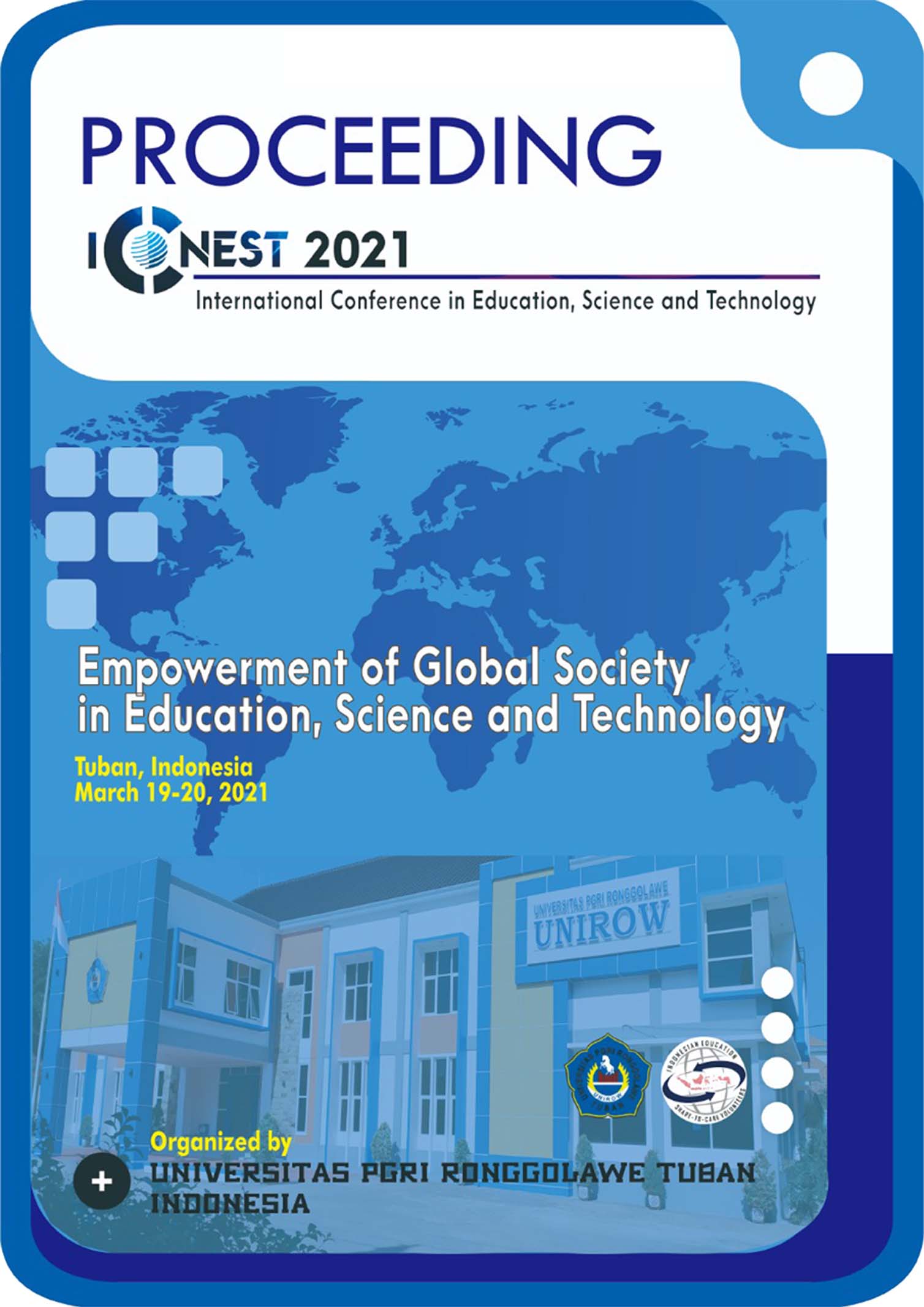 Downloads