PROSES METAKOGNISI MATEMATIS SISWA DALAM PEMECAHAN MASALAH
Keywords:
metakognisi, diskusi kelompok, pembelajaran matematika
Abstract
Penelitian ini mengkaji metakognisi siswa SD dan MTs Surya Buana Malang dalam diskusi kelompok pembelajaran matematika. Penelitian ini dilakukan dengan observasi partisipatif di kelas 3B dan kelas 8A serta wawancara mendalam kepada siswa. Dalam proses diskusi dikaji munculnya metakognisi yang meliputi: kesadaran, regulasi, dan evaluasi.  Hasil penelitian menujukkan bahwa kesadaran siswa perempuan dalam kelompok untuk memikirkan pemecahan masalah yang diberikan lebih terfokus dan tidak sering mengajukan   bantuan   guru.   Regulasi   muncul   pada   saat   siswa   selesai mengerjakan  tugas  dengan  cara menunjukkan  hasil  pekerjaan    pada teman dalam kelompok. Evaluasi dilakukan siswa berulang-ulang pada saat menyelesaikan masalah dan siswa pada tiap-tiap kelompok   menunjukkan aktivitas komunikatif antar anggota.
References
Anastasia Efklides, 2005. Metacognition and Affect: What Can Metacognitive Experiences Tell Us about the Learning Process? (Online), (www.researchgate.net). Diakses tanggal 24 Januari 2014.

Anderson, O.W. & Krathwohl, D.R., (2002). A Taxonomy For Learning, Teaching, and Assessing (A Revision of Bloom's Taxonomy of Educational Objectives). New York: Addision Wesley Longman, Inc.

Areti Panaoura, G. Philippou, C. Christou, 2010. Young Pupils' Metacognitive Ability In Mathematics. (Online), (www.dm.unipi.it) Diakses tanggal 21 Maret 2014

Asmawaw Yimer and Nerida F. Ellerton. 2006. Cognitive and Metacognitive Aspects of Mathematical Problem Solving: An Emerging Model. (Online), (www.merga.net.au). Diakses tanggal 22 Januari 2014.

Branca, N. A. 1980. Problem Solving as a Goal, Process, and Basic Sskill dalam Krulik, S. & Reys, R. E. (editor). 1980. Problem Solving in School Mathematics. New York: the National Council of Teachers of Mathematics, Inc.

Douglas J. Hacker, John Dunlosky and Arthur C. Graesser. 2000. Handbook of Metacognition in Education. New York, London: Routledge Taylor and Francis Group.

Ebrahim P. Karan and Javier Irizarry. 2011. Effects of Meta-cognitive Strategies on Problem Solving Ability in Construction Education. (Online), (www.ascpro.ascweb.org). Diakses tanggal 24 Februari 2014.

G. Jaya Praba, 2013. Metacognitive Instruction and Cooperative Learning Strategi for Promoting Insightful Learning in Science. International Journal on New Trends in Education and Their Implications (Online), (www:ijonte.org). Diakses tanggal 30 Maret 2014.

G. Polya. 1988. How to Solve It, A New Aspect of Mathematical Method. Oxford: Princeton University Press

Harriet Salatas Waters and Wolfgang Schneider. 2010. Metacognition, Strategy Use, and Instruction. New York, London: The Guilford Press.

Huitt, William G. 1997. Metacognition. (Online) (www.tip.psychology.org/- meta.html). Diakses tanggal 17 Maret 2014.

Jennifer G. Cromley. 2005. Metacognition, Cognitive Strategy Instruction, and Reading in Adult Literacy. (Online), (www.ncsall.net). Diakses tanggal 1 Maret 2014.

Kementrian Pendidikan Nasional Universitas Negeri Malang, 2010. Pedoman Penulisan Karya Ilmiah (Edisi V); Skripsi, Tesis, Disertasi, Artikel, Makalah, Tugas Akhir, Laporan Penelitian. Malang: Universitas Negeri Malang Press.

Livingstone. (1997). Metacognition: An Overview. (Online) (www.gse.buffalo.edu) Diakses tanggal 19 Maret 2014.

Luis Tirtasanjaya Lioe, Ho Ka Fai, John G. Hedberg, 2006. Students' Metacognitive Problem Solving Strategies in Solving Open-ended Problems in Pairs. (Online), (www.math.ecnu.edu.cn). Diakses tanggal 3 Februari 2014.

Maria T. Magiera and Judith S. Zawojewski. 2011. Characterizations of Social-Based and Self-Based Contexts Associated with Students' Awareness, Evaluation, and Regulation of Their Thinking During Small-Group Mathematical Modeling. Journal for Research in Mathematics Education. Number 5, Voume 42 November 2011. pp. 486-516.

Nelvin R. Nool. 2012. Processes of Prospective Mathematics Teachers During

Problem Solving. (Online), (www.ipedr.com). Diakses tanggal 1 Februari 2014. Orton, A., 1992, Learning Mathematics; Issues, Theory and Classroom Practice, Second Edition, Cassell, New York.

Polina Biryukov, 2003. Metacognitive Aspects of Solving Combinatorics Problem Kaye College of Education. (Online),(www.cimt.plymouth.ac.uk). Diakses tanggal 13 Februari 2014

Schoenfeld, A. H. (1992). Learning to Think Mathematically: Problem Solving,Metacognition, and Sense-Making in Mathematics. In D. Grouws (Ed.), Handbook for Research on Mathematics Teaching and Learning (pp. 334-370). New York: MacMillan. (Online ),(www.jjwilson.coe.uga.edu/.../Schoenfeld). Diakses tanggal 31 Maret 2014

Taccasu Project. (2008). Metacognition. (Online). (www.hku.hk/cepc/taccasu. Diakses tanggal 4 Januari 2014.

Timothy J. Perfect and Bennett L. Schwartz. 2004. Applied Metacognition. Cambridge, United Kingdom: Cambridge University Press.

Wong Khoon Yoong, 2007. Metacognitive Awareness of Problem Solving among Primary and Secondary School Students. (Online), (www.math.nie.edu.sg). Diakses tanggal 1 Maret 2013.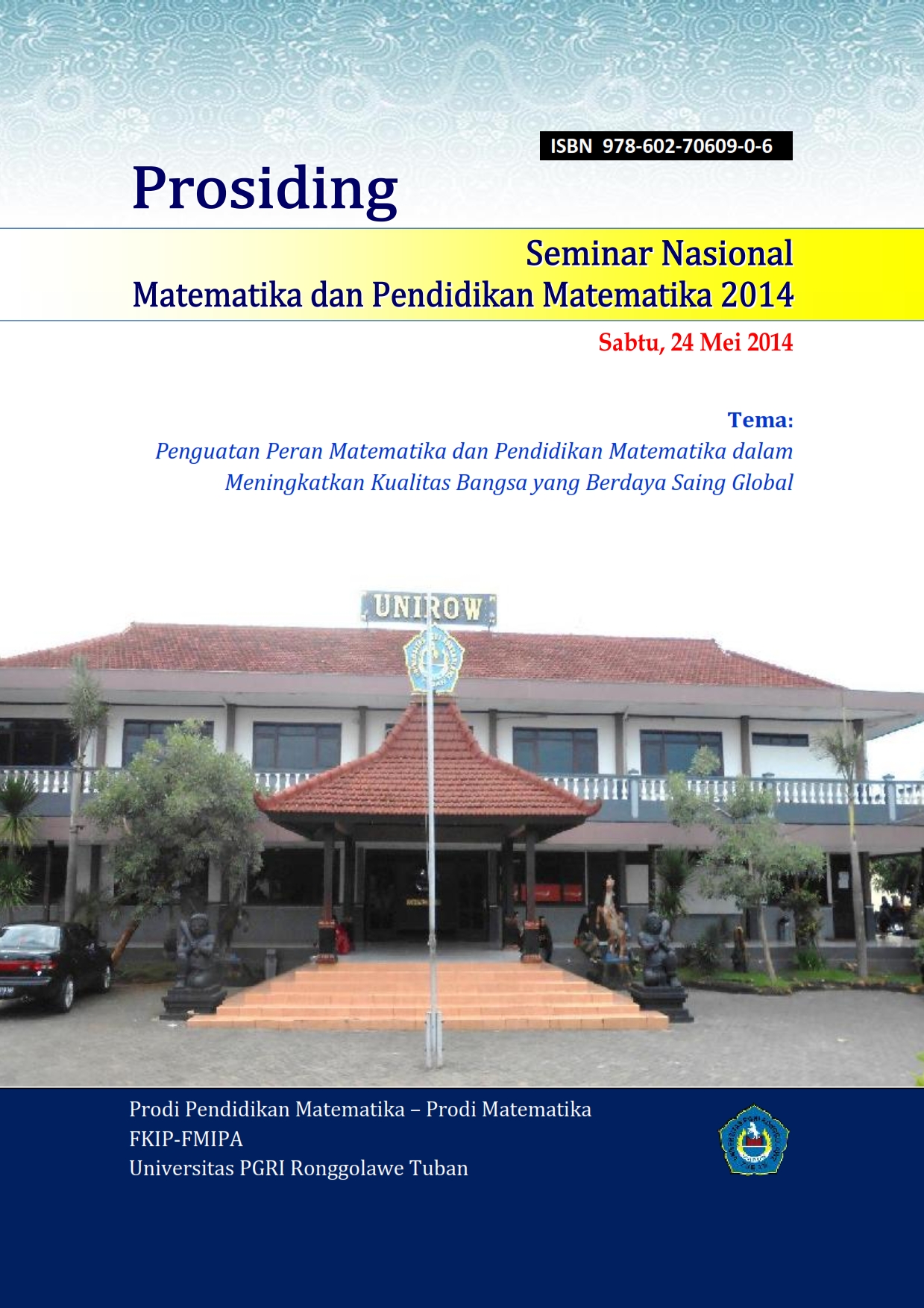 Downloads
How to Cite
Purnomo, D., Nusantara, T., Subanji, & Rahardjo, S. . (2014). PROSES METAKOGNISI MATEMATIS SISWA DALAM PEMECAHAN MASALAH. Prosiding Seminar Nasional Matematika Dan Pendidikan Matematika, 5(1), 67–76. Retrieved from http://prosiding.unirow.ac.id/index.php/snmpm/article/view/11